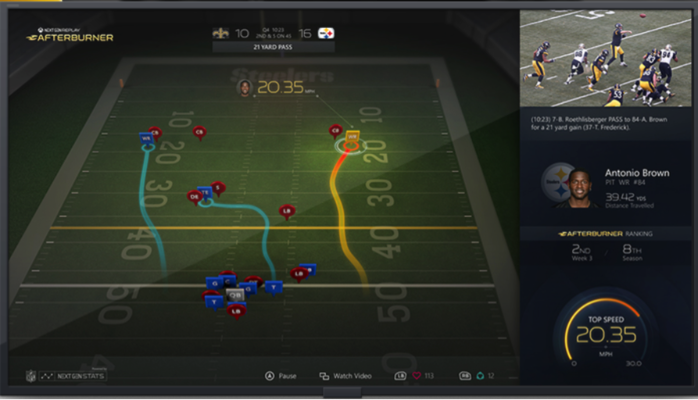 IoT is being talked about in every trade rag and technology blog you can think of but there really hasn't been a business case to justify large companies to invest in their network infrastructure to support it. That may be about to change. The Internet of Things has arrived at the NFL in a big way.
Every NFL player has been equipped with a set of RFID sensors about the size of a quarter embedded in their shoulder pads. Each sensor emits unique radio frequencies. Every NFL stadium has been equipped with 20 receivers to pick up those radio frequencies and pinpoint every player's field position, speed, distance traveled and acceleration in real time.
By using two sensors for each player the system can also identify which direction each player is facing. The NFL is using the data it collects to power the NFL 2015 app for Xbox One and Windows 10, allowing things such as "Next Gen Replay" that allows fans to pull up stats for each player tied to highlight clips posted on the app. The data is also fed to broadcasters, coaching staff, players and although it never leaves the stadium from a broadcasters perspective it is also distributed out to the NFL cloud.
The NFL is pioneering IoT with an ingenious idea and soon fans as well as players and coaches will have all kinds of new statistics and information about the game and its players. Imagine how much more involved fans can be tracking stats about their fantasy league players. This technology could grow the fan base and give the NFL a leg up on the competition for viewers. Imagine how much more interactive watching sports can become if this technology catches on. This data could be used for post-game evaluations, training, and at some point could be used during games on the field. The NFL has barely scratched the surface on what they can do with this data.
Technology continues to grow at an incredible rate and companies who innovate and apply it will have an edge on the competition. Competitive use of technology will determine the winners and losers of every business in every legacy sector in the near future. Don't get caught in the downward spiral of remaining in an old legacy network rather than cloud or an old phone system that doesn't allow collaboration…embrace technology and take your company to the next level. The NFL doesn't need to be a pioneer (34 of America's 35 most watched fall TV shows were NFL games and there were 205 million viewers) yet they are pioneering cutting edge technology on and off the field. Facebook by comparison has 1.1 billion active monthly users. Uber has turned the Taxi industry on its head in just 4 years with the use of technology (historically San Francisco is a $140 mil Taxi market per year… last year Uber revenues in San Francisco were $500 mil)
How is your company using technology?