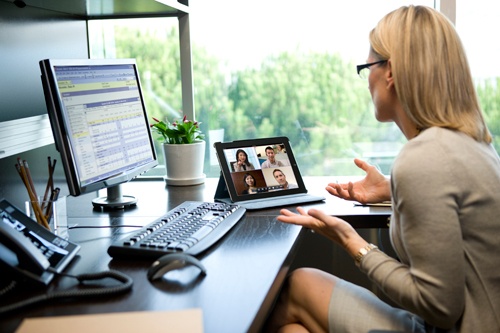 The Internet now plays a substantial role in business to the extent that most people take it for granted. For example consider how often we all access cloud-based web applications, stream Pandora, video conferencing, make phone calls or download large files from a website. Your bandwidth is taxed for all of those high demand things. If multiple users on your network are doing these things at the same time your bandwidth needs multiply. If you are only getting 15-20 megabit per second Internet speeds, its easy to see how a few heavy demands on your Internet access can eat up your bandwidth and slow everything down.
We hear commercials on the radio all day long from many ISPs most of which offer wireless Internet. They desperately try to differentiate themselves with all kinds of claims. Then there are the century old telco's and their offerings, next is the cable companies. So how is a business owner or IT professional to know what Internet is best for their business?
The answer to this dilemma is understanding the options available and what solution is best for your particular need.
For most companies there are 3 basic options for Internet access:
Fiber Optics
Fiber optics versus copper or other mediums can be boiled down to the speed of photons versus electrons. Photons travel at the speed of light while electrons travel at less than 1% of the speed of light. Electrons run over Copper. It doesn't take much more than that to realize that for high speed data transmission Fiber is ideal. Fiber experiences less signal loss than copper so distance really isn't a factor. While fiber can be harder to come by from an availability standpoint it offers speed, reliability and cost effectiveness and is the "go-to" technology for business Internet. As price compression continues in the industry, Fiber becomes more and more affordable and available. I recommend working with an agent to check what different carriers can offer in your area. Do not be fooled by wireless marketing terms such as Air Fiber....there is no such thing. Fiber optics is dedicated speeds 100mb x 100mb up to 10GB x 10GB, it is not throttled down like other solutions. Fiber optic wire line connectivity is the only true fiber based medium and is the Cadillac of network connectivity.
Copper: DSL, Cable & T1's
Since the invention of the telephone 100 years ago, the dominant way to connect your home or business has involved copper cabling. It is the perfect wire to carry voice traffic and does a good job of carrying data traffic. The issue is that copper has very limited bandwidth to offer. DSL and Cable are very economical and you may see speeds upwards of 40mb or even 100mb per second download but you'll notice the upload speeds to be throttled back to 2, 3 or 5mb per second. That can be a issue when using video conferencing or VoIP with a large volume of calls. After all it doesn't matter how fast you can download the other persons voice on a call if your voice is completely scrambled from lack of upload speed when you reply. Cable services are shared so bandwidth fluctuates throughout the day. Copper T1s can be bonded for up to 10mb dedicated speeds but the cost of that older technology mostly outweighs its benefit. For a cheap alternative to T1 in a small business, DSL or cable is the way to go. With cheaper copper solutions like DSL & Cable it comes down to can you get enough bandwidth to live with the inherent problems to make it worth while. In other words if I can get 100mb Cable connection and my business really only needs 30mb dedicated then I can probably deal with the fluctuations for the cheap price point. If not then I recommend you upgrade to fiber.
Wireless
Wireless Internet is the most widely available and cheapest cost when it comes to Internet. Wireless uses a method of broadcasting an Internet connection over radio waves. Many wireless companies will advertise high speeds for a very low cost. However wireless is a shared and best effort service so although you may be paying for 60mb you will likely only get 15-20mb or less depending on the time of day. Wireless also has problems with signal degradation the further away the user is from the broadcast station. Wireless shares the same draw back as DSL when it comes to throttling down the upload speed. Wireless is also the least reliable as it is subject to weather, line of sight issues etc. There is one area that wireless is a great fit...It can be a great backup solution. Wireless is inexpensive and widely available so using it as a backup to your primary Internet for disaster recovery makes a lot of sense. It really isn't well suited however to serve as a primary business connectivity solution. Many small businesses use it but if there is better technology available to you, consider upgrading to DSL or Fiber and your life will be much better.
All 3 Internet mediums have their place and can be an asset to your organization if used properly. Small businesses can benefit from the speeds of DSL and Cable at a lower price point. Organizations looking for a backup solution for disaster recovery should consider wireless. Companies using VoIP, video, and other bandwidth demanding services should seek out fiber optic connectivity for the most robust and reliable Internet service available. Don't be fooled by advertising. Remember the old adage: "You get what you pay for".
Get a free summary of Internet options available at your location:
Or download a free Internet Checklist to determine which Internet Solution is best you.
About the Author
Mike is CEO of Agility Communications and a telecom veteran of 20 years, having worked for CenturyLink (Qwest) and as an independent telecom consultant. His industry expertise makes him adept at advising businesses on telecom strategy, helping SMBs optimize their communications, especially in the rapidly evolving landscape of cloud services. He is committed to working with companies to assess their voice and data systems in an effort to remain agile and competitive in the marketplace.
When he's not creating value for customers, Mike and his family spend time outdoors and like to take in the arts. Mike is a consummate hobbyist including sports, boating and the outdoors. He loves to talk basketball, especially if it involves his favorite team, the Golden State Warriors.
Connect with Mike on LinkedIn or read his latest posts on the Agility Communications website.